Welcome to the Abiel Family
Are you headed to Singapore for a work stint and hunting for a comfortable apartment to call home?
Or perhaps you are looking for expat accommodation in Singapore for your colleagues or your relocation clients who are in town for special projects?
Be sure to check out our newly renovated apartments at Tiong Bahru-Outram (One Tree). We are confident Abiel's value-for-money proposition with our convenient locations and high standards of customer service will put our two properties firmly in your shortlist.
Here at Abiel, we adopt a family philosophy in the way we treat our guests. Even their family and friends – who may come for visits from time to time – are regarded as extended members of the Abiel family, and we do our best to accommodate their needs too.
Experience the Abiel family connection for yourself when you make first contact with us. Whether you are a direct prospect, a HR specialist, or a relocation agent looking for expat accommodation in Singapore, our friendly booking team will listen to your needs and promptly set up viewings of suitable apartments. Other members of the Abiel family from the concierge to the housekeepers – and not forgetting our pet mascots, Bear the Poodle and Bless the Pomeranian – are constant companions to make you feel at home at Abiel.
The same family philosophy is extended to the way we treat our staff. We believe it is the key to our being able to maintain a stable Abiel team that delivers consistently high service standards to our guests. Many of our guests are repeat customers as they are highly satisfied with their previous stays. Feel free to ask to see the written customer feedback we have received from our guests to help you decide on your Abiel home in Singapore.
Besides the sincere and friendly customer service, your Abiel apartment feels like home because of the family-style layout with your own washer-dryer, fully equipped kitchen with a cooking hood and hob, as well as other essentials that make up a comfortable home. Soft furnishings that create a homely feel can be found throughout your apartment and, just like in a real home, your Abiel family members will sometimes leave handwritten (but always legible) notes for you.
Views of our cosy Outram apartments
Our Abiel orientation team takes pride in helping you settle in fast so that you can get started on your work immediately. Besides an induction to your Abiel home, we also provide an orientation of your neighbourhood, pointing out convenient local amenities, transport links and popular dining and entertainment spots. With peace of mind knowing that you have a convenient and comfortable home all set up, and that your accompanying loved ones are taken care of, you will be able to hit the road running the moment you start work in Singapore.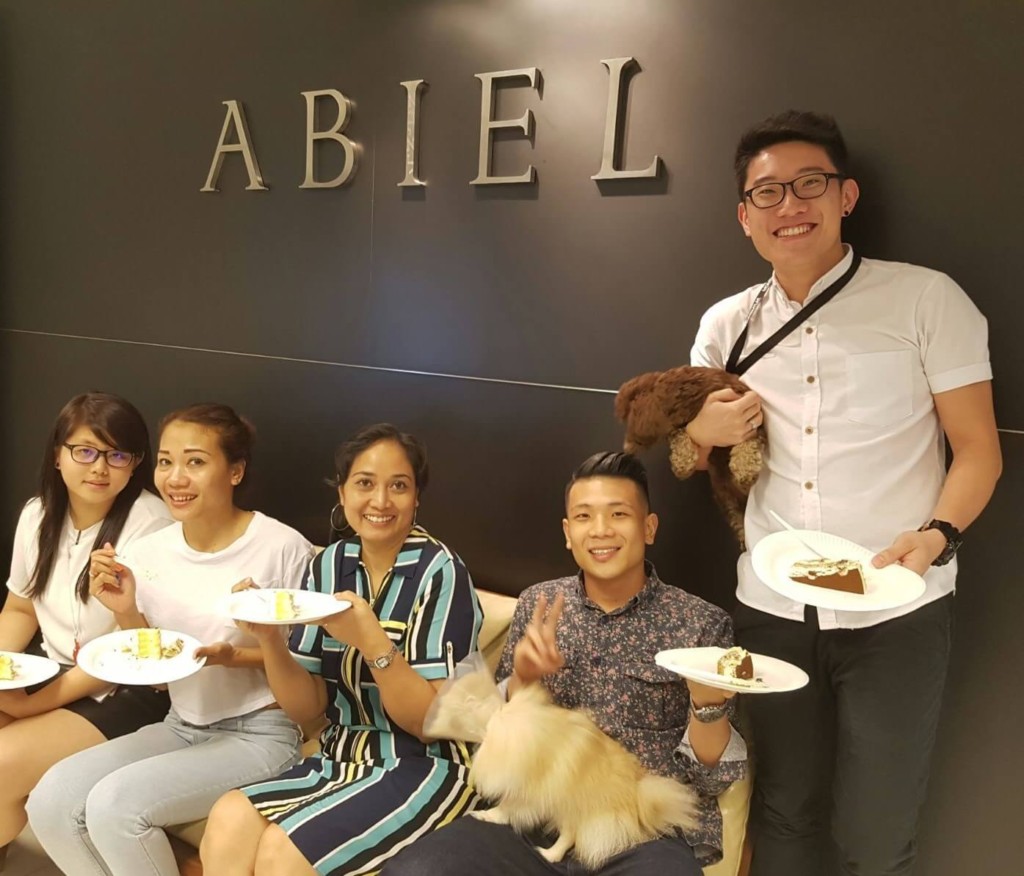 Our friendly Abiel team who work hard & play harder!
To choose your Abiel home in Singapore, contact your helpful Abiel booking buddy now!